hit Sharma hit a last ball six to steal Deccan Charger's victory for the Mumbai Indians in a nerve wrecking finish at Vizag. Mumbai Indians needing 18 runs to win from the last over to be bowled by Daniel Christian got three crucial hits – a boundary in the first ball, a six in the fourth ball and of course a six in the final ball. Rohit Sharma held his nerve to finish the match for Mumbai Indians with his unbeaten 73 from 50 balls with 4 fours and 5 sixes. Mumbai Indians had to really work hard to chase down a modest target of 139 against the Deccan Chargers.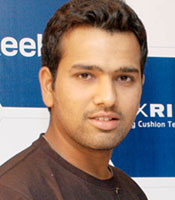 The hosts struggled to reach 138 for 9 in the first half. After a couple of early wickets, they got some impetus from Shikhar Dhawan (41 from 24 balls with 2 fours and 4 sixes). However, they lost their way in the middle overs before Australians Daniel Christian (39 from 36 balls with a four and 2 sixes) and Cameron White (30* from 22 balls with a four and 2 sixes) helped them towards a respectable total.
There was a huge controversy during the DC innings when Skipper Kumar Sangakkara appeared to have dragged his slog off Munaf Patel onto the off stump. To the naked eye, it wasn't clear that he was bowled with the Keeper standing up to the stumps. Mumbai Indians thought that they had Sangakkara bowled and appealed but the Umpires weren't convinced. Harbhajan Singh then got into a heated argument with the Umpires and going to the extent of pointing fingers as well! Munaf Patel extended the ugly spat and finally the Umpires called for the TV Umpire to have a look at it and Sangakkara was given out.
Munaf Patel might have behaved badly but bowled well for his 4 for 20 in 4 overs. Lasith Malinga got 3 for 27 by mixing his pace beautifully. Harbhajan Singh was very tight with 0 for 18 in 4 overs.
It appeared to be an easy victory for Mumbai Indians with just 139 needed from 20 overs but Dale Steyn had other ideas. Bowling fast and furious, Dale Steyn took two early wickets to have Mumbai Indians on the backfoot. Rohit Sharma brought the visitors back in the game with two decent partnerships. One of them was with Kieron Pollard who smashed an important 24 from 18 balls with 3 sixes before perishing in the 17th over at 95 for 4. After Pollard's dismissal, it was all on Rohit's shoulders to pull off the magic. He got useful support from Dinesh Karthik and James Franklin to carry his side to the final ball victory. Dale Steyn's superb bowling efforts of 4-1-12-3 went in vain for Deccan Chargers!
Rohit Sharma was the obvious choice for the Man of the Match award.
Toss and Teams: Hosts Deccan Chargers have won the toss and elected to bat first in Match 9 of the DLF IPL 2012 against Mumbai Indians at the ACA-VDCA Stadium in Vizag. For starters, Kumar Sangakkara has flown in from Sri Lanka to lead the Deccan Chargers. Sangakkara missed the first match of his team because of playing in the Colombo Test against England. For the Mumbai Indians, Sachin Tendulkar is still sitting out because of his finger injury. This is the second match in a row that Tendulkar is missing.
Deccan Chargers: KC Sangakkara (Captain & Wicket Keeper), S Dhawan, PA Patel, B Chipli, CL White, DT Christian, DB Ravi Teja, A Mishra, Ankit Sharma, DW Steyn, Anand Rajan
Mumbai Indians: TL Suman, RE Levi, AT Rayudu, RG Sharma, JEC Franklin, KD Karthik (Wicket Keeper), KA Pollard, Harbhajan Singh (Captain), SL Malinga, PP Ojha, MM Patel