Pakistani opener Mohammad Hafeez could find himself in trouble after his dismissal on the first day's play of the Third Test at Dubai. Mohammad Hafeez showed clear dissent after being given out lbw in a controversial manner by the URDS. Hafeez going back for a flick shot to Stuart Broad was struck on the pad and the ball was seeming to hit the top of the leg stump. Umpire Simon Taufel gave the benefit of doubt to the batsman as it was a bouncy good length delivery from Broad.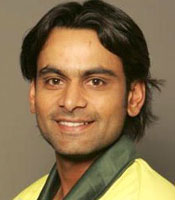 England took the review and the Third Umpire gave his decision that the ball was going to hit the leg stump. However, he didn't consider a faint inside edge which Hafeez had got according to the slow motion replays and also the Hot Spot. Simon Taufel reversed his decision to give him out lbw. Hafeez who watched the replays on the big screen was sarcastically clapping at his bat while walking back to the pavilion.

It will be a clear case of dissent on Umpire's decision for Mohammad Hafeez which could cut some of his match fees after the first day's play this evening. Mohammad Hafeez fell for 13 leaving Pakistan in trouble at 21 for 4.