All-rounder Ravindra Jadeja came out in firm support of senior spin partner Ravichandran Ashwin following the second day's play at Rajkot, in which England amassed 537. Ashwin went for 167 runs from 46 overs while claiming only two wickets.
"We have five bowlers and all five bowlers have the responsibility and not only Ashwin. As it happens sometimes chances go down, it's all part of the game. Everyone is responsible in equal measure,"Jadeja, who 3/86 claimed from 30 overs, was quoted as saying by PTI.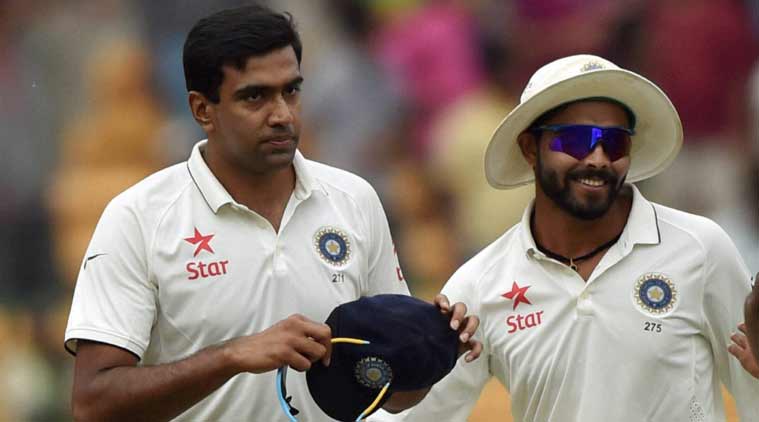 Jadeja bowled only 9 overs on the second day. Asked about it, he said, "That was captain's thinking. He must have had his own reasons looking from the team's point of view. I don't think it was his plan to deliberately bowl Ashwin and Mishra more."
The left-arm spinner also rued the fact that Wriddhiman Saha dropped Ben Stokes twice in the 60s, after which the all-rounder went on to thump a hundred. In all, India dropped five catches in the innings. "Stokes played very well and played according to merit. Initially, he was struggling against Yadav, but after that he played calmly. Whenever a catch has been dropped, it has often happened a batsman will go on to score a century. Stokes got two chances and then a few fell in no man's land, but these things are common in cricket," Jadeja told PTI.
Jadeja also admitted that losing the toss played a part. "I think the toss took away the game from us. Everyone knows that on the first two days the Rajkot wicket suits batsmen and after that the spinners come into play. That's all I can say," Jadeja further told PTI.
"As the game progresses, pitch will get slower. From one end, where there are some foot marks, deliveries can spin. But the middle portion has remained the same. Yesterday and today, the fast bowlers had some help but over the next few days the wicket will become slower," Jadeja added.
On the plan ahead for the Indian batsmen, Jadeja told PTI, "We now have to make the runs put on board. Tomorrow is crucial for us we have to play positive cricket. We have to play normal cricket according to the merit of the ball."
Former captain Sourav Ganguly, meanwhile felt that India's pacers Umesh Yadav, Ishant Sharma and Mohammed Shami needed to do more. "On a Day 1 pitch like at Rajkot, the fast bowlers need to come into play. That's why I keep harping that play on good pitches in India, so that you learn how to play overseas," Ganguly told ESPN Cricinfo.
He also defended the Indian spinners, and said that they cannot be expected to claim five-fors every time they came on to bowl. "We played South Africa. Four Tests on minefields and it doesn't help anyone. If India play 5 Test matches on good pitches and Anil Kumble gets Shami, Yadav and Ishant to pick three wickets on the first day, India will become a better side. Because you don't expect Ravichandran Ashwin or a Ravindra Jadeja on a flat pitch against a good batting side to pick five wickets. They might do it once or twice but it is impossible for them to do it consistently," he told Cricinfo
--By A Cricket Correspondent