Pakistan had to work hard to remove the last two wickets of England taking nearly 13 overs but the wait was sweet as they completed a 3-0 cleansweep over the World No.1 Test Team! England already out of the contest when play started in the final session dragged themselves to the 98th over before folding up for 252. Pakistan pulled off a remarkable 71-run win in this third and final Test at Dubai and nobody would have given them any chance when they were bundled out for a sorry 99 on Day 1!

The final session saw Matt Prior and Stuart Broad counter attack the Pakistani bowling to bring the target down. Pakistan felt the pinch but were lucky as the second new ball taken in the 83rd over straightaway produced the breakthrough to end a dangerous partnership. Stuart Broad (18) holed out to long off when he miscued a lofted shot off Umar Gul with England at 196 for 7. Graeme Swann (1) who also throws his bat around like Broad was caught brilliantly by the forward diving Asad Shafiq at backward point when he played a loose square drive on the up off Umar Gul.

Pakistan then were defied by the stubborn resistance from James Anderson while Matt Prior played positively to give a tiny hope for his side. In the 93rd over, finally Pakistan got their breakthrough with James Anderson (9 from 26 balls) going for a cut and edging a Saeed Ajmal's bouncing top spinner to Younis Khan at first slip who took a sharp reflex catch.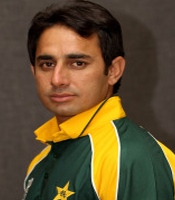 The end of the match came when Monty Panesar (8) bent down to play an ambitious slog sweep but only to get hit on the groin plumb infront of middle to an arm ball from Abdur Rehman. Wicket Keeper Matt Prior remained unbeaten on a valiant 49* from 58 balls with 5 fours. Umar Gul and Saeed Ajmal were the chief-wreckers in this innings taking four wickets each. The Man of the Match went to Azhar Ali for his patient century in the second innings while there was no guessing required for the Man of the Series award which rightly went to England's destroyer - Saeed Ajmal!

Tea Report : Pakistan are closing in towards their dream cleansweep of 3-0 as the English batsmen struggled to counter the spin twins Abdur Rehman and Saeed Ajmal. By Tea, England face the inevitable defeat at 173 for 6 with Wicket Keeper Matt Prior left with the bowlers. The Englishmen showed a bit of fight through the last pair of specialist batsmen - Ian Bell and Eoin Morgan but it did not last long enough.

The first to go after Lunch was Kevin Pietersen but the tall right hander sent down shivers to the Pakistanis when he stepped down the track to tonk Abdur Rehman for a boundary and a six in one over. However, Saeed Ajmal ended Kevin Pietersen's stay with a well tossed up off break from round the sticks, which angled away but turned in to go right through the bat pad gate to hit the off stump! Pietersen (18) was unsure as he played outside the line thinking that it could have been a doosra!

Very soon, Alastair Cook (49 from 187 balls with 4 fours) looked to nudge Saeed Ajmal to the legside for a single to bring up his fifty but only to play right against the turn and get a leading edge to the diving Younis at slip! England was almost over at 119 for 4 but the pair of Ian Bell and Eoin Morgan looked determined to bring up something special. The pair added 37 runs before Ian Bell (10) cut a rank long hop from Umar Gul which spooned up straight into the hands of point. In no time, Eoin Morgan (31 from 48 balls with 3 fours and a six) departed as well, looking to skip down the track to Umar Gul but only to go back and edge a short of length delivery to the keeper. That was a special delivery which angled in from round the sticks but held its line to find a feather edge.

England went to Tea at 173 for 6 in 80 overs needing 151 more runs for an unlikely victory!

Lunch Report : Pakistan are in control of the third and final Test match as England are hardly attacking them and have also lost two key wickets this morning. England at Lunch on Day 4 are 89 for 2 in 49 overs with another 235 runs to score to avoid a cleansweep. Opener Alastair Cook with a patient 41 (from 145 balls with 4 fours) is rallying along with Kevin Pietersen (1*) who will be desperate to score big atleast in this last opportunity of the Test Series.

The first wicket of the morning fell in the 26th over when Skipper Andrew Strauss was given lbw to left arm spinner Abdur Rehman. Strauss had barely survived a caught behind before this when Adnan Akmal dropped a straight forward sitter off Umar Gul's bowling. But luckily that childish drop didn't cost Pakistan dearly as Strauss (26 from 76 balls) was hit on the back pad in line of the middle stump when Abdur Rehman got one to turn in sharply off the rough outside off.

By the stroke of lunch, Saeeed Ajmal with a bouncy doosra in the 45th over got Jonathan Trott (18 from 64 balls) top edging his slog sweep to deep backward squareleg to end what was appearing to be a steady 2nd wicket partnership. England this morning have scored only 53 runs in 29 overs losing two wickets.

Start of play on Day 4 : The fourth day of the Third Test match is poised nicely with England needing 288 more runs to win with all its 10 wickets in tact. However, Pakistan should consider themselves favourites to win this match and clinch a 3-0 whitewash as the pitch was turning square yesterday evening. Its already a very dry surface wearing out considerably under the blistering sun. The pitch already seems to be a dusty bowl but England if they can apply themselves can pull off a superb win! But can they get the better of Saeed Ajmal and Abdur Rehman? Well we will have to see!