By BV Swagath
Tear away teenage fast bowler Pat Cummins is once again out of action with an injury. The latest in his young career is a side strain which he sustained during the opening NatWest ODI at Lord's. According to the Australian team Doctor John Orchard, Cummins has sustained an abdominal muscle strain on his left side. Cummins has been ruled out of the remained of the ongoing ODI Series against England and is expected to fly home on Monday.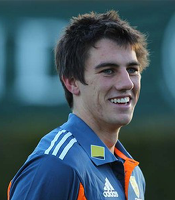 The Australian Selectors have decided not to name any replacement as the squad already has pacers Ben Hilfenhaus, Mitchell Johnson and James Pattinson sitting out in the first ODI.
The 19-year-old Cummins has played just the one Test, 5 ODIs and 2 T20Is in his international career which now has two injuries already – a foot injury during the South Africa tour and now the side strain in England.