India finally tasted victory on what has been a disastrous tour of Australia. In the Second T20I at the Melbourne Cricket Ground on Friday, India through a superb fielding performance pulled off a comprehensive 8-wicket win having bowled out hosts Australia for a modest 131. Apart from the sparkling fielding, a couple of bowlers did bowl well for India, in particular R Vinay Kumar. For the Aussies, too there was some good bowling from Brett Lee and Clint McKay but their team didn't have enough runs on the board to defend.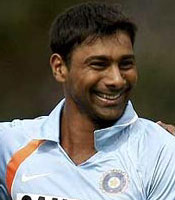 The best bowler of the Match we can pick is Praveen Kumar as it was his double strike very early in the 3rd over had lifted his team's spirits. Praveen Kumar first got the all important wicket of David Warner by surprising the left hander with the zip and lift he got in his bouncer to force a miscued pull. Praveen Kumar then had Shaun Marsh caught behind with some lovely outswing bowling. Praveen's spell at the start certainly made an impact in the outcome of the match!
Well here is how all the Wickets fell in the Second KFC T20I at Melbourne as recorded by Cricwaves.com:
Fall of Wickets in the Australian Innings
Over 2.2 PS Kumar to DA Warner, CAUGHT, Warner goes back and looks to pull high in the air for a six over deep squareleg but doesn't middle and is caught at the boundary by Gambhir.
Over 2.5 PS Kumar to SE Marsh, CAUGHT, lovely swing bowling and Shaun Marsh is gone for another zero! Shaun got forward and poked at a late away swinger and edged it low to the lone slip who couldn't hold onto the catch but juggled it and the rebound was taken by MS Dhoni!
Over 6.6 V Kohli to DJ Hussey, Aaron Finch RUN OUT, Hussey nudged that to backward point and took off for a risky run. An agile Jadeja flicked the ball back to MSD who finds Finch a yard short of his crease.
Over 8.3 Rahul Sharma to DJ Hussey, Bailey Run Out! Hussey went back and cut it to the diving backward point where Jadeja fires a throw at the bowling end to run out Bailey by a mile as he was backing up at the non-striker end!
Over 13.3 RA Jadeja to DJ Hussey, CAUGHT, Hussey gets forward to whip the flighted delivery to mid wicket but only to get a leading edge back to the bowler who takes a simple catch!
Over 17.3 Rahul Sharma to MR Marsh, Stumped Out, Mitchell steps out slightly and is beaten by the turn off a well tossed up leg break and MSD whips off the bails in a flash with Mitchell's backleg in the air just a fraction!
Over 18.2 R Vinay Kumar to MS Wade, Run Out! Wade drives the half volley straight to extra covers where Rohit fires a direct throw at the bowling end to run out Wade who set off for a risky single. Rohit paused to take aim and he finds Wade well short in his dive.
Over 18.3 R Vinay Kumar to CJ McKay, CAUGHT, McKay goes back and edges the lovely away going delivery to MSD who takes a very low catch!
Over 19.3 Rahul Sharma to GB Hogg, OUT LBW, Hogg goes back to whip it to the onside but gets hit plumb on the pad infront of middle by a skidding delivery!
Over 19.4 Rahul Sharma to XJ Doherty, 1 +Doherty Run Out, Doherty went back and flicked it through wide mid wicket and decide to risk a second run. Raina is the fielder who fires an accurate throw to Dhoni who takes the bails off with Doherty well short! India need 132 runs to win from 20 Overs.
Fall of Wickets in the Indian Innings
Over 6.3 GB Hogg to V Sehwag, CAUGHT, Sehwag steps out and drives the full toss in the air and straight into the hands of short extra covers!
Over 13.4 MR Marsh to V Kohli, CAUGHT, Kohli goes back to steer it to thirdman but ends up getting caught by the diving Wicket Keeper.