But for excessive rain washing out a major portion of the last two days of the Galle Test, Sri Lanka should coast home to victory. Pakistan's batting in the Test has been atrocious to say the least. The pitch at Galle doesn't have any demons as such. Still, the visiting batsmen have had a struggle to survive against the Lankan attack. The key reason for Pakistan's failure with the bat has been the lack of application shown by their batsmen, especially their experienced ones.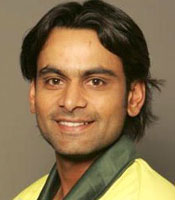 The problems for Pakistan begin right with their stand in skipper Mohammad Hafeez, who has failed to score too many runs throughout the tour. The story wasn't too different at Galle as well. He got a start in the first innings, but did not carry on, and in the second innings he just did not get going. Hafeez's lack of form has been a big concern for Pakistan in the series. His failures have also reflected in the team's dwindling fortunes on the tour. Before leaving for Sri Lanka, a lot was expected of Hafeez since he was appointed the T20 captain and, in recent years, has also been among the more consistent performers for Pakistan. In a matter of a month though he has found himself in a rather precarious position.
Taufeeq Umar has gone through another Test in which he has failed to score big. Being an opener, Umar's role in the team is a key one. Sadly for Pakistan, he has struggled on more occasions than he has succeeded. Possibly the only reason he is in team is because Pakistan don't have a suitable replacement. With both openers Hafeez and Umar short of runs, it is not surprising that Pakistan have struggled in the Test.
The inexperience in the middle-order is further hurting Pakistan. Only Younis Khan has substantial international exposure, but even he is short of runs and confidence. Among the others, while Azhar Ali was excellent in the ODIs, he hasn't managed to repeat the act in Galle. Of course, it could only be a case of the law of averages catching up with him, but in a team where most batsmen are struggling, even a couple of failures from Ali seem unacceptable, which is actually unfair on the batsman.
Asad Shafiq, Mohammad Ayub and wicket-keeper Adnan Akmal make up the rest of the batting order. Out of them, Ayub was making his Test debut. He did reasonably well to hang around in the first innings, and it would be great for Pakistan if he can come up with something substantial in the second innings. Shafiq and Akmal both haven't made any great impact as yet. They'll need to do so soon to cement their place in the XI.
As things stand, Pakistan will need a miraculous batting effort from Khan and the rest of the batsmen if they are to save the Test. That's if rain doesn't play it part. From what's been on show, that looks rather unlikely.
- By a Cricket Analyst