Veteran left-handed Australian batsman Simon Katich, who announced his retirement from first-class cricket on Tuesday, won't be remembered as one of Australia's greats. But, he did play a role in keeping the country on top of the rankings at their peak. While his record as a limited overs batsman was reasonable, he ended up with a rather impressive record as a Test batsman.
Batting in the Justin Langer mode, Katich notched up 4188 runs in 56 Tests at a healthy average of 45. The stats also include 10 hundreds and 25 fifties. In fact, at the peak of his career he was a must in the squad. He ended up becoming the scapegoat of Australia's Ashes loss in 2010-11 even as the other star, non-performing players kept their place.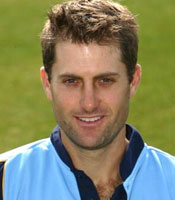 Katich did not help his chances by lashing out at the Aussie selectors after he was refused a central contract. The 36-year-old did have a point, but the Aussie selectors did not take it very kindly, and Katich's chances slowly but surely faded away. Following batting collapses against South Africa and New Zealand, there were talks of the experienced opener getting another chance to play for Australia. However, Katich was once again unlucky, this time Ed Cowan ensuring he grabbed the opening spot. And with David Warner also performing, there was no chance for Katich to make a back door entry. It wasn't surprising then that the former Aussie batsman decided to call it a day from first class cricket.
The greatest contribution Katich made to Australian cricket was holding one end up for the team even as the other stroke makers played around him. Putting a price tag on his wicket, Katich rarely threw his wicket away. What his ability to preserve his wicket did was allow Australia to put up some big scores on board as the other batsmen could play freely, knowing well that even if a couple of them failed, Katich was around to rescue them. Along the way, Katich himself played some very significant knocks. Any batsman who has scored 10 Test tons has achieved a credible place in annals of cricketing history. And in spite of his disappointments towards the end of his career, Katich should be remembered as a loyal, hard-working servant of Australian cricket.
Even though he ended with a worthwhile Test record, there was a stage in his career, when it seemed Katich wasn't wanted in Australian cricket. Since making his debut in 2001, Katich was constantly in and out of the team. There was no spot for him in the middle-order. Still, Katich kept notching up runs at the first-class level, and took up the vacancy in the opening spot once Langer retired. His performance exceeded expectations.
He was not among the naturally gifted batsmen to play for Australia, but like Langer and Steve Waugh, Katich made optimum use of whatever ability he had.
-- By A Cricket Analyst