Pakistan managed to pull off a hard-earned 21-run victory over Bangladesh in the opening match of the Micromax Asia Cup 2012 at the Shere Bangla National Stadium in Mirpur. Fast bowler Umar Gul played crucial part with both the ball and the bat to star in the Pakistan win. Bangladesh flattered to deceive and yet again let its fans down with its inconsistent show.
Needing a target of 263, Bangladesh got a promising start from Tamim Iqbal and Nazimuddin. The opening pair put up 45 runs in 10.5 overs before Nazimuddin (30 from 33 balls with 4 fours and a six) upper cut Aizaz Cheema into the hands of thirdman. Next man in - Jahurul Islam (23) too put up a promising stand with Tamim Iqbal before throwing his wicket away with a needless slog off Shahid Afridi.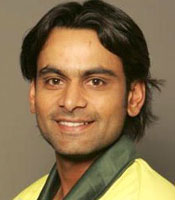 Bangladesh lost their third wicket in the form of Skipper Mushfiqur Rahim (3) who got bowled trying to dangerously cut a flipper from Afridi which reduced his side to 100 for 3 in the 23rd over. The hosts looked good when Tamim Iqbal was joined by Shakib Al Hasan. Tamim Iqbal having gone past a fifty to silence his critics played a tired late cut in the 29th over to get bowled by an arm ball from Mohammad Hafeez. The 22-year-old Tamim Iqbal got out for 64 which came in 89 balls with 6 fours and a six in the 29th over. Bangladesh seemed to have lost the plot in the very next ball when Mahmudullah (0) attempted a ridiculous sweep off Hafeez and got hit on the pad. It was a wrong lbw decision but Mahmudullah caused his own downfall with such a poor shot.
The Tigers were out of the match at 135 for 5 but soon got back on track because of a superb partnership between Shakib Al Hasan and Nasir Hossain. The duo added up 89 runs for the 6th wicket to have Bangladesh within striking distance of the target. However, Pakistan got right back into the game when Umar Gul having taken for consecutive boundaries managed to clean up the stumps of Nasir Hossain (47 from 49 balls with 3 fours and a six) in a casual flick shot in the 44th over. Bangladesh needed 39 more runs to win from 39 balls at this stage with 4 wickets in hand.
Unfortunately, Shakib Al Hasan was let down by the rest of his colleagues who departed back to the pavilion one after the other unable to handle the pressure. Eventually, Shakib Al Hasan (64 from 66 balls with 4 fours) was all alone and was the last man out when he tried out a desperate slog off Umar Gul at the start of the penultimate over. Bangladesh got bowled out for 241 in 48.1 overs with Umar Gul picking up 3 for 58. All the other Pakistani bowlers did a good job as well bowling tightly and taking wickets.
The Man of the Match award went to Mohammad Hafeez who followed up his knock of 89 with neat figures of 10-1-40-2. Hafeez infact turned the match in Pakistan's favour when he took two wickets in two balls.
Bangladesh restrict Pakistan to 262 for 8
Pakistan have been restricted to 262 for 8 in the opening match of the Asia Cup by hosts Bangladesh. Shahadat Hossain and Shakib Al Hasan bowled extremely well to pull down Pakistan from a strong position of 160 for 1 to 198 for 7! Pakistan will still feel comfortable though as Bangladesh has always lacked the experience in chasing down targets of 250+.
Although they started slowly, the two Pakistani openers Mohammad Hafeez and Nasir Jamshed laid a solid foundation. As the overs ticked by, the run-rate improved and both the batsmen eased past their half centuries. It was only in the 28th over that Bangladesh could find their first breakthrough when Nasir Jamshed (54 from 64 balls with 5 fours and a six) was run out at the batting end by a throw from Shakib Al Hasan to the Keeper. Jamshed was trying to steal a difficult single for his partner Hafeez with whom he put up an opening stand of 135.
Things went nicely for Pakistan until fast bowler Shahadat Hossain returned for his second spell and out of nowhere took three wickets! First he got Younis Khan (12) caught at covers when the right hander got a leading edge in an aerial flick shot in the 33rd over. Very soon, Shahadat got the well set Mohammad Hafeez (89 from 126 balls with 7 fours) caught at squareleg after tamely top edging a pull shot to an attempted bouncer. In his next over, Shahadat struck again when he induced a top edged pull from Asad Shafiq (4) which sailed into the hands of deep backward squareleg.
Shakib Al Hasan joined the party too taking two crucial wickets in the 40th over which reduced Pakistan to 193 for 6. Umar Akmal (21) caused his own downfall when he top edged a horrible slog sweep to deep squareleg. Shahid Afridi got out for a first ball duck in the same over when he patted a low return catch to Shakib which was taken brilliantly after a third attempt! The low catch had popped out of Shakib's hands but he lobbed it up in the air and the ball flew towards Misbah-ul-Haq at the non-striker's end to hit his chest and roll down into the bowler's hands once again!
The biggest blow for Pakistan came in the 42nd over when Abdur Razzak cleaned up Skipper Misbah-ul-Haq (8) right through the gate with a well disguised arm ball! Pakistan at 198 for 7 recovered nicely thanks to Umar Gul's cameo of 39 (from 25 balls with 5 fours and a six). They eventually settled to a decent looking 262 for 8. The pick of the bowlers for the hosts was Shakib Al Hasan with 2 for 41 in 10 overs.
Toss and Teams : Bangladesh have won the toss and asked Pakistan to bat first in the opening match of the Micromax Asia Cup 2012 at the Shere Bangla National Stadium in Mirpur.
Mushfiqur Rahim, the Bangladesh Captain feels that the pitch looks fresh with a bit of grass and that's the reason he wants his team to bowl first. He also adds that he has three pace bowlers in the team. Pakistan have left out Azhar Ali for this match.
The pitch for today's game is expected to become slower and lower as the match progresses. There wouldn't be much in for the pace bowlers and it should be more of a flat batting surface.
Pakistan XI : Mohammad Hafeez, Nasir Jamshed, Asad Shafiq, Younis Khan, Misbah-ul-Haq (Captain), Umar Akmal, Shahid Afridi, Sarfraz Ahmed (Wicket Keeper), Umar Gul, Saeed Ajmal, Aizaz Cheema
Bangladesh XI : Tamim Iqbal, Nazimuddin, Jahurul Islam, Mushfiqur Rahim (Captain & Wicket Keeper), Shakib Al Hasan, Mahmudullah, Nasir Hossain, Mashrafe Mortaza, Abdur Razzak, Shafiul Islam, Shahadat Hossain